Johanne (Dam) Larsen, 1908-2005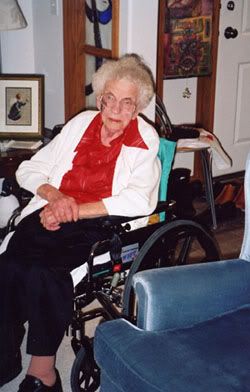 July 3, 1908 to April 14, 2005. That's quite the run. A lot of factors contributed to my grandma's death this morning, with the hip injury last summer that has made movement difficult, the flu virus that severally weakened her this winter, her declining hearing and sight that made her legally deaf and blind, the cancerous tumour only recently discovered, and the high fever that she was running with earlier in the weak. All that said, she did not die from any one of these ailments, but very peacefully died in her bed in between the end of the nightshift and the morning crew for nurses... she was calm, and fine during her last checkup by the night shift nurse between 6 and 7 AM, but dead by 8 AM in the first checkup by the morning crew. If she were in any pain, she was the kind of person that would buzz the nurses for help... there was no call. The news of her death reached my ears within the hour.
That being said, nearly 97 years of life had left her exhausted by the end. She grew up in Denmark, a relatively peaceful country during a time of chaos on the European continent. The fall of monarchies, the advent of trench warfare, the rise of Communism... all were part of her youth, but never touched Danish soil. She came of age in the 1920s and as a young 21 year old with her whole life ahead of her, hopped on a ship headed to Halifax in February 1930. After a year in Nova Scotia, she moved to Montreal. There she worked as a housemaid for wealthy families, including the Molson family. For six years, she worked in Montreal, until she got engaged to a fellow immigrant from Denmark, my grandpa. She left behind a young life in the big city for a farmlife in southeastern Saskatchewan... it couldn't have been the easiest decision, even if she wasn't earning much money in Montreal. She moved just in time for the summer of 1937... probably the most infamous of the "Dirty Thirties" years. On her farm in Redvers she raised 5 boys and 2 girls while helping out with the farm chores. She endured the biggest pain of her life in the summer of 1957 when her second-born son, Paul, who had recently completed his education, was killed in a construction accident. For a period of over 30 years, she raised children. She saw her husband lose a battle to cancer in 1985, and still ended up living for nearly 20 more years.
Incredible, isn't it? I'd say she deserves her rest.
My biggest memory of her will be when I drove her from Redvers to Saskatoon for Christmas in 1999. It was one of the rare times I spent one on one with her, and the first time that it happened. We didn't talk much, but we made several stops along the way since she had to go the bathroom often. We stopped in Fillmore. Fillmore is where my parents met, as they were both teachers on staff there. My grandma decided that I should ask the people in the restaurant if they remembered them. I hesitated, but she got right up and started walking towards some people... I wasn't getting out of this. Some people remembered, but little conversation started. Grandma was funny that way, though. It was cute when she got excited like that. She often complained and got frustrated, but she got incredibly excited over small things. She kept a flower garden planted into her early nineties... I guess that says something about her.
Today, I helped clean out her room with her body still lying on her bed. I folded her clothes, took her embrodiered art off the walls, helped console her son and two daughters that were present, and said goodbye. I hadn't expected her to survive the winter... she made it to spring. What else can I say... If it wasn't for her, I wouldn't exist. It's a weird thought... and it keeps passing through my brain. That, and trying to explain myself in Fillmore.